(Updated 5:20 p.m.)
The University of the Philippines elected on Thursday Gabriel Paolo "Heart" Diño as the nation's first transgender head of student government when she came out on top in UP's annual University Student Council (USC) poll. A graduate student in Applied Mathematics, Diño will be Chairperson of the USC for one year.
"It's a great win for human rights to have a transgender win the premier seat in the (UP) Student Council," said Clara Rita Padilla, the Executive Director of EnGendeRights, a non-governmental organization advocating gender equality.
"Kung titignan ang kanyang
stand, she fights against gender discrimination, corruption and hazing. This is something to be proud of because this means there's hope in Philippine society."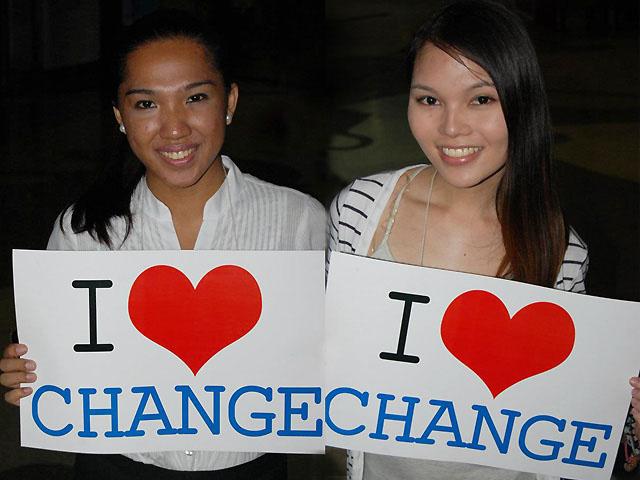 In a historic poll, University of the Philippines Diliman students voted Gabriel 'Heart' Diño (left) as the first transgender University Student Council chairperson. Diño, and USC councilor winner Pat Bringas (right), are members of UP Babaylan, the 'first and largest' LGBT students' organization in the PHL. GMA News
Another transgender candidate, Pat Bringas, won a student council seat, with the second highest number of votes among all the council candidates. Bringas is an undergraduate student of Film and Audio Visual Communication.
Gays and lesbians the world over have protested discrimination and gender barriers to advancement. The two students' victory could signify that, in the Philippines at least, these barriers may be falling.
Diño, who ran under the Alyansa party, had 3290 votes, 500 votes more than her closest opponent, independent candidate Martin Loon from the College of Law, who had 2,743 votes. In last year's student elections, Diño won a seat as a councilor with the highest number of votes.
"This was the real change we were looking for," said Benz Benedicto, former chairperson of the Ang Ladlad political party, which represents Lesbian-Gay-Bisexual-Transgender (LGBT) interests.
"Ibig sabihin nito tinatanggap na kami
not on the basis of sexual orientation or identity but based on capability and skills."
For his part, Ladlad party-list chairman Danton Remotio said the election of Diño shows that "the horizon of one's dreams is infinite."
"Whether one is lesbian, gay, transgender, or bisexual, the power to lead has been transferred to the capable hands of a transgender leader. We applaud this historic moment and congratulate her in her achievement," Remoto said in a text message to GMA News.

Victorious UP Student Council candidates Heart Diño and Pat Bringas appear in a campaign photo on UP Babaylan's Facebook page
As defined on the website of UP Babaylan, a LGBT student organization, "transgender" is "an umbrella term for people whose gender identity, expression or behavior is different from those typically associated with their assigned sex at birth, including but not limited to transsexuals, cross-dressers, androgynous people, genderqueers, and gender non-conforming people."
Transgender persons can choose to be referred to as either a he or a she. Diño prefers she.
A BS Mathematics major who graduated magna cum laude from UP Diliman in 2011, Heart Diño is now a Master of Science student in Applied Mathematics in Finance. Diño is also an incumbent USC councilor, heading the USC Gender Committee.
EnGendeRights' Padilla also stressed how Diño's victory can help focus attention on pending anti-discrimination bills in Congress that face tough opposition from lawmakers and the Catholic church.
"We're hoping this could be a start. It's clear Philippine society is changing," added Padilla. - R. Fopalan, Kimberly Jane Tan/ HS/RSJ, GMA News